Open the English-Strong's Indexer by selecting English-Strong's Indexer on the Search menu, or press Ctrl+F2, or click the English-Strong's Indexer button on the Search toolbar.
The English-Strong's Indexer (ESI) is a word study tool that shows which Greek or Hebrew words the King James translators translated into a given English word. (The ESI only uses the KJV because the KJV is the only text in SwordSearcher that is indexed by Strong's numbers.)
The ESI offers functionality similar to the Young's Analytical Concordance. If you want to search for Strong's numbers, see the topic on the King James Version with Strong's Links.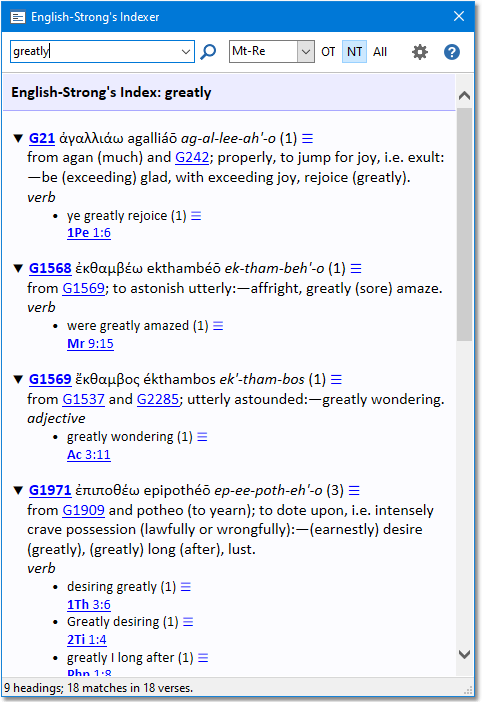 Sample English-Strong's Indexer, showing New Testament index of GREATLY
In this example, the word "greatly" has been indexed in the New Testament. The results show each Strong's Number for every Greek word that was translated to "greatly" in the KJV, and a sample of verses for each Strong's Number. Also shown is the Strong's Lexicon definition for the Greek word.
(Note that if you are using the evaluation version of SwordSearcher, the definitions are omitted because the Strong's lexicons are only available in the Deluxe version.)
You can limit your index to either Testament, or search the entire Bible.
Here is a breakdown of the result data, shown from a portion of the results from a search for "greatly:"
| | |
| --- | --- |
| | Strong's number, word, and how many times this word was translated into the given English word. |
| | Strong's lexicon definition of the Strong's number. |
| (This is a sample screen shot. These links are not active in the help file.) | Breakdown of each English phrase containing the given English word, and how many times that phrase was used for this Strong's number, with up to five example verses linked. |