SwordSearcher includes an editor for editing content in user library modules. See Creating Your Own Books and Commentaries for details on how to initiate editing a user entry.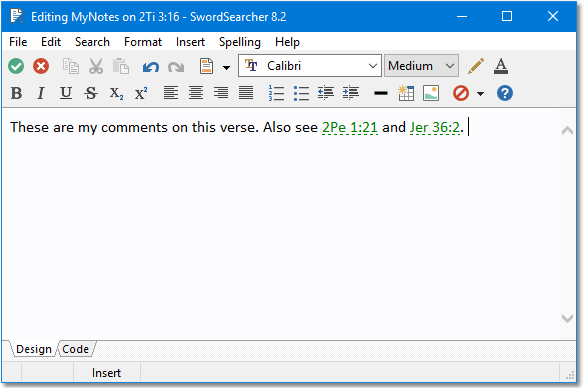 Sample editor window, showing user editing comment text on 2Ti 3:16.
The editor is a word-processor style editor and provides several formatting options. You can use the common Windows clipboard commands Copy, Cut and Paste as you would in any text editor. Experiment with the toolbar buttons and review the Format menu to see what kinds of formatting options you may apply to your text.
Any verse references you type in the text will be automatically linked when the entry is displayed in the Book or Commentary panels, and indexed for the Verse Guide. See Verse Links and Links to Other modules in the User Editor for more information on links in user entries.
Advanced users with a strong understanding of HTML code may also want to use the editor in "code edit mode."
Editor Functionality
Find and Replace functions are on the editor Search menu. Once a find operation is executed, you can repeat it with F3.
You can paste images in from the clipboard or use the Insert Image function on the toolbar (or Insert menu).
Tables are also supported. Use the Insert Table button on the toolbar (or Insert menu) to insert an empty table. Right-click a table to add, remove, and merge cells, rows, and columns.
The editor has an integrated spell check which checks spelling as you type, and underlines words in red that are not found in the spell check dictionary. Select Spell Check Options from the Spelling menu to change settings for the spell checker or disable automatic spell check. You can initiate the spell check manually with F7 or on the Spelling menu. The integrated spell check understands American English and all of the words found in the King James Bible. A British English dictionary is also available and can be selected in spell check settings.
When pasting in text from other sources, it is often useful to use the Remove Formatting function on the pasted text. Mark the text you wish to "normalize" and then click the Remove Formatting button on the toolbar or Format menu to remove font and other formatting. A similar command on the Format menu is Remove Link, which is helpful when you paste in text from a website that may contain links to other documents that you don't want retained in your entry. Another useful function is Paste As Plain Text, which pastes text from the Windows clipboard without retaining the source formatting options.
If your entry contains a large amount of inconsistent or undesired formatting, which can happen when pasting text in from external sources, use the Style and Format Cleaner tool (on the Format menu) to "scrub" the text free of formatting. The Style and Format Cleaner provides options for choosing what kind of formatting to retain.
Pressing Enter while typing text inserts a new paragraph. Because entries are at their core HTML documents, paragraphs are "HTML style" paragraphs with white space separating them. To insert a line break without creating a new paragraph, press Shift+Enter. (This is not recommended as it creates very large paragraphs.)
Inserting Text for Verses
If you are using the editor to create Bible study handouts or sermon notes, it can be helpful to insert the complete text of Scripture references directly into the document, rather than relying only on verses being linked in the display panels. This way, the complete text of the verses is included when you print the entry.
Using the Insert Text for Verse References at Cursor function does this automatically. This function is on the Insert menu but can also be accessed by pressing Ctrl+T. Type verse references or move the typing cursor into already typed verse references and press Ctrl+T: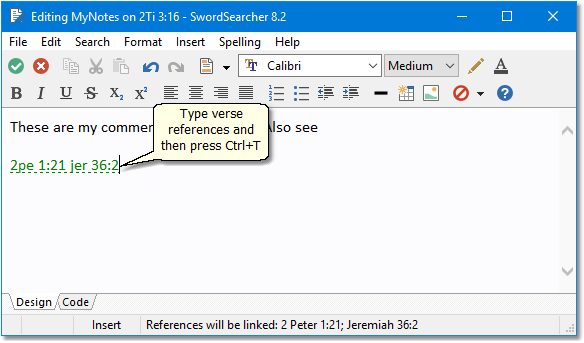 Verse references are typed...
...and after Ctrl+T is pressed, text is inserted automatically.
The formatting used for the verse references and verse text can be configured in the main Export Formatting dialog.