This text is part of the SwordSearcher Deluxe Study Library.
Module type: Book
Module abbreviation: Bounds

"I love SwordSearcher. It is the best Bible program that I have used. I use it every week when I prepare messages to preach."
—Joshua Turk

The Deluxe library includes hundreds of volumes. Discover how fast, convenient, and powerful software is compared to mere online study tools.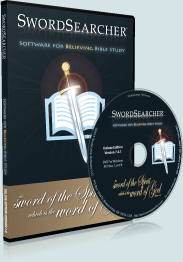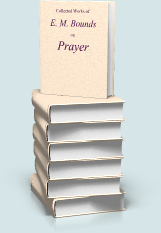 The SwordSearcher E. M. Bounds on Prayer module contains seven seminal books on prayer by Edward M. Bounds.
Necessity of Prayer

FOREWORD
PRAYER AND FAITH
PRAYER AND FAITH (CONTINUED)
PRAYER AND TRUST
PRAYER AND DESIRE
PRAYER AND FERVENCY
PRAYER AND IMPORTUNITY
PRAYER AND IMPORTUNITY (CONTINUED)
PRAYER AND CHARACTER AND CONDUCT
PRAYER AND OBEDIENCE
PRAYER AND OBEDIENCE (CONTINUED)
PRAYER AND VIGILANCE
PRAYER AND THE WORD OF GOD
PRAYER AND THE WORD OF GOD (CONTINUED)
PRAYER AND THE HOUSE OF GOD

Essentials of Prayer

FOREWORD
PRAYER TAKES IN THE WHOLE MAN
PRAYER AND HUMILITY
PRAYER AND DEVOTION
PRAYER, PRAISE, AND THANKSGIVING
PRAYER AND TROUBLE
PRAYER AND TROUBLE (CONTINUED)
PRAYER AND GOD'S WORK
PRAYER AND CONSECRATION
PRAYER AND A DEFINITE RELIGIOUS STANDARD
PRAYER BORN OF COMPASSION
CONCERTED PRAYER
THE UNIVERSALITY OF PRAYER
PRAYER AND MISSIONS

Reality of Prayer

FOREWARD
PRAYER-A PRIVILEGE, PRINCELY, SACRED
PRAYER-FILLS MAN'S POVERTY WITH GOD'S RICHES
PRAYER- THE ALL-IMPORTANT ESSENCE OF EARTHLY WORSHIP
GOD HAS EVERYTHING TO DO WITH PRAYER
JESUS CHRIST, THE DIVINE TEACHER OF PRAYER
JESUS CHRIST, THE DIVINE TEACHER OF PRAYER (CONTINUED)
JESUS CHRIST AN EXAMPLE OF PRAYER
PRAYER INCIDENTS IN THE LIFE OF OUR LORD
PRAYER INCIDENTS IN THE LIFE OF OUR LORD (CONTINUED)
OUR LORD'S MODEL PRAYER
OUR LORD'S SACERDOTAL PRAYER
THE GETHSEMANE PRAYER
THE HOLY SPIRIT AND PRAYER
THE HOLY SPIRIT OUR HELPER IN PRAYER

Purpose in Prayer

PRAYER IS A KEYNOTE
PRAYER CAN CHANGE GOD'S PURPOSE
PRAYER HAS CONDITIONS
ATTITUDES REGARDING PRAYER
PRAYER HAS NO SUBSTITUTES
CHARACTERISTICS OF TRUE PRAYER
PRAY ALWAYS
MEN ARE CALLED TO PRAY
THE POSSIBILITIES OF TRUE PRAYER
HINDRANCES TO PRAYER
PRAYER OPENS UP DIVINE RESOURCES
PRAYER UNDERGIRDS REVIVALS
CHRIST COMMANDED US TO PRAY

Weapon of Prayer

PRAYER ESSENTIAL TO GOD
PUTTING GOD TO WORK
THE NECESSITY FOR PRAYING MEN
GOD'S NEED OF MEN WHO PRAY
PRAYERLESS CHRISTIANS
PRAYING MEN AT A PREMIUM
THE MINISTRY AND PRAYER
PRAYERLESSNESS IN THE PULPIT
PRAYER-EQUIPMENT FOR PREACHERS
THE PREACHER'S CRY-PRAY FOR US!
MODERN EXAMPLES OF PRAYER
MODERN EXAMPLES OF PRAYER (CONTINUED)

Power of Prayer

MEN OF PRAYER NEEDED
OUR SUFFICIENCY IS OF GOD
THE LETTER KILLETH
TENDENCIES TO BE AVOIDED
PRAYER, THE GREAT ESSENTIAL
A PRAYING MINISTRY SUCCESSFUL
MUCH TIME SHOULD BE GIVEN TO PRAYER
EXAMPLES OF PRAYING MEN
BEGIN THE DAY WITH PRAYER
PRAYER AND DEVOTION UNITED
AN EXAMPLE OF DEVOTION
HEART PREPARATION NECESSARY
GRACE FROM THE HEART RATHER THAN THE HEAD
UNCTION A NECESSITY
UNCTION, THE MARK OF TRUE GOSPEL PREACHING
MUCH PRAYER THE PRICE OF UNCTION
PRAYER MARKS SPIRITUAL LEADERSHIP
PREACHERS NEED THE PRAYERS OF THE PEOPLE
DELIBERATION NECESSARY TO LARGEST RESULTS FROM PRAYER
A PRAYING PULPIT BEGETS A PRAYING PEW

Prayer and Praying Men

INTRODUCTION
PRAYING SAINTS OF THE OLD TESTAMENTS
PRAYING SAINTS OF THE OLD TESTAMENTS (CONTINUED)
ABRAHAM, THE MAN OF PRAYER
MOSES, THE MIGHTY INTERCESSOR
ELIJAH, THE PRAYING PROPHET
HEZEKIAH, THE PRAYING KING
EZRA, THE PRAYING REFORMER
NEHEMIAH, THE PRAYING BUILDER
SAMUEL, THE CHILD OF PRAYER
DANIEL, THE PRAYING CAPTIVE
FAITH OF SINNERS IN PRAYER
PAUL, THE TEACHER OF PRAYER
PAUL AND HIS PRAYING
PAUL AND HIS PRAYING (CONTINUED)
PAUL AND HIS REQUESTS FOR PRAYER
PAUL AND HIS REQUESTS FOR PRAYER (CONTINUED)