SwordSearcher Version 7 Released
SwordSearcher 7 now available!
For all upgrade details, see the Upgrade FAQ and the Revision History.
What's New in SwordSearcher 7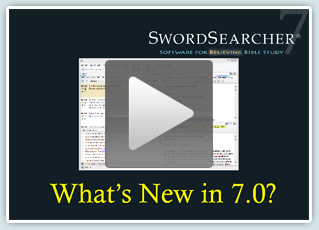 Video: What's New in SwordSearcher 7.0?
March 18, 2013
Library Additions:
New feature highlights:
New, more powerful Go to Verse and Search Toolbar is more versatile, providing automatic search suggestions as you type, fast access to verse-based tools and topic lookup, and more. Be sure to watch the video to see how helpful this is.
The new Bible Word Clouds Generator is one of the most interesting discovery tools you'll ever use.
New Module Set System lets you create groups of library items that you care about, which can be used to filter library searches, or switch between different collections of visible library tabs or Bible margin links.
Improvements to the Verse Guide Panel and the Topic Guide make these tools even faster to use than before.
Bible book abbreviations can be customized.
A new cohesive "look" with simpler, more elegant icons, while retaining the same usability and flow that made SwordSearcher what it is.
...and much more!
Current users click here for upgrade info.
Not yet a SwordSearcher user? Order here.
See what's new from previous releases here.