This text is part of the SwordSearcher Deluxe Study Library.
Module type: Book
Module abbreviation: FBHole

"I have used SwordSearcher over the past several years and wouldn't trade it for anything in the world."
—Ronald Gill

The Deluxe library includes hundreds of volumes. Discover how fast, convenient, and powerful software is compared to mere online study tools.
Also included:
F. B. Hole's New Testament Commentary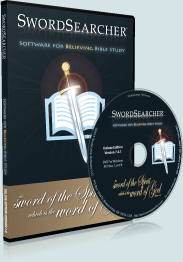 The Writings of Frank Binford Hole includes 206 essays and articles collected from various publications written over the lifetime of F. B. Hole (1874-1964).
Hole edited and contributed to two periodicals in London: Edification and Scripture Truth. Most of the articles in this module first appeared in one of these publications.
As with all book resources in SwordSearcher, this module can be instantly searched by topic, phrase, or verse reference.
This library module contains:
Absolute Dominion
Abundant Life
Administration of the Mystery, The
All Prayer at All Seasons
Alliances which should be avoided
And to exalt the lamb
Approaching Advent of Christ, The
Are we responding?
Are you Growing in Grace?
As at the first
Assembly Principles
Assets of the Christian Life, The
Atonement: Its Meaning and True Character
Backsliding - With a Word to Christian Workers
Be a Man of Purpose
Be not deceived
Begin to possess
Benevolent Rule
Blood and Water
Blood and Water. What do they mean?
Both Arm and Servant
Christ formed in you
Christ is all
Christ: Sacrifice, Blesser, Centre, Builder, Leader, Judge, Administrator
Christ: The Divine Resource
Christ: the Prince of Peace
Christian Conflict
Closing Messages, The
Coincidence, or the Hand of God?
Come on and Get out
Come on-Get out
Coming of the Kingdom, The
Confusion and the Call of God
Count it all joy
Creation, and the Fall of Man
Danger to be Avoided, A
Dangers that Threaten
Day of Manifestation, The
Dead to the law
Death of the Lord, The
Declarations of God as to the Person of Christ, The
Deity and Humanity of Christ, The
Democracy in the Light of Scripture
Disappointment and its Cure
Disentanglement
Disobedience leads to Disaster
Displacement
Door of Hope, A
Effective Service
Elect . . . unto obedience
Election and Free Grace
Election of grace, The
Encouragement for Parents
End of the Lord, The
Enriched in Him
Eternal Life or Idols
Evil Men, Silly Women, and the Man of God
Faith - some better thing
Faith and Works
Fatherhood and Sonship
Fear of the Lord, The
Forgiveness
Four Types in Genesis
Four Types in Israel's Journey
Free-hearted Liberality
From Man's Wretchedness to God's Greatness
Future Punishment: Its Character and Duration
Getting and Giving
Getting Ready for the Climax
Gift of the Holy Spirit, The
God with us, for us, in us
Godliness
Grace and Discipleship
Grace, Guidance, and Government
Great Contrast, A
Great Illusion Dispelled, The
Great things for thyself
Haggai
He condemned the world
He looked for a city
He pleased God
Hearkening to James
Heart of the Lord, The
Heavenly Things Introduced
High time to wake out of sleep
His Last Request
His steps and Following his steps
Hope that Purifies, The
Hope, and its Effects, The
House of the Lord, The
How do we regard the Bible?
How do you look at life?
How to run well
Human Nature
In my name
In the Kingdom of God
Inspiration and Authority of the Bible, The
Intelligent Service
Just After Conversion
Justification
Keeping the Unity of the Spirit
Kingdom of Heaven. Law and Grace, The
Knowledge of God, The
Last Adam - The Second Man, The
Law and Grace
Liberty, Responsibility, Fraternity
Life of Faith, The
Life: Lost or Kept
Little Maid, A
Lord is risen indeed, The
Lord's Yoke, The
Lost Diadem, The
Man's Diplomacy and God's Discipline
Modern Brambles, The
Modern Mystical Teachings and the Word of God
More excellent sacrifice, A
New Birth, The
New Creation
New Nature and the Old, The
New things do I declare
No Compromise
No profit - Great gain
Not by works of righteousness
Not Miracles, But Truth
Notes on Galatians
Obedience of faith, The
Obeying the Truth
Of God and not of us
One Loaf: One Body
Our old man
Outward Circumstances and Inward Grace
Overcoming
Patience and comfort of the sscriptures
Pattern Ministry, A
Peace and Deliverance
People prepared for the Lord, A
Perfect Day, The
Place for the Lord, A
Primitive Church, The
Propitiation
Questions as to Prayer
Quickening
Reconciliation
Redemption
Renunciation and Communion
Result of the Ministry, The
Resurrection and Glory
Root, as well as Shoot
Royal Service
Safeguards for the Soul
Safety and Sanctification
Salvation
Sanctification
Second Established, The
Secret of the Dispensation, The
Seeming Contradiction, A
Serving and Waiting
Seventh from Adam, The
Shakings - Yet once more
Significant Injunction, A
Signs and Wonders
Sin and Sins
Sin in the Flesh Condemned
Son of God is come, The
Sovereignty and Responsibility
Sowing and Reaping
Spiritual Growth
Standing, State, and Service
Stedfast, unmoveable, always abounding
Sufferings of this present time, The
Summary and Conclusion
Tarry One for Another
Ten times better
Testings and Trials
They howled upon their beds
Things which become sound doctrine
This grace wherein we stand
Three Apostolic Principles
Three Divinely Established Principles
Three Parallel Lines
Trial of your faith, The
True Grace of God, The
True Greatness
Truth is the Test
Two Headships, The
Ups and Downs of Life, The
Upward Way, The
Very small thing, A
Warning and Rebuke
We glory in tribulations
What is the Christian Calling?
What is the Cross?
What Manner of Persons?
What thoughts should govern my heart when sitting before the Lord to remember Him?
Wherefore then didst thou not obey?
Why Christ died for us
Will ALL the Saints be caught up when the Lord comes?
Will He really return?
Witness. Leader. Commander
Word and the Throne, The
Word and the Touch, The
Work of the Lord in the World, The
Work of the Spirit, The
World: Our Position and Attitude in it, The
Worm yet Jehovah of Hosts, A
Worship and Service