Bible Word Trees show fascinating interactive connections between words and phrases in the Bible.
The Word Tree tool is easy to use, but it is much easier to learn to use it by watching it in action. Please consider watching the demonstration video on the web to see how it works. Or, just start playing with it.
Open the Word Trees tool from the Search menu or by using the Word Trees button on the Search toolbar.
When you first open the Word Trees window this way, you will see a list of potential word trees to explore based on the chapter you are currently viewing. It looks like this: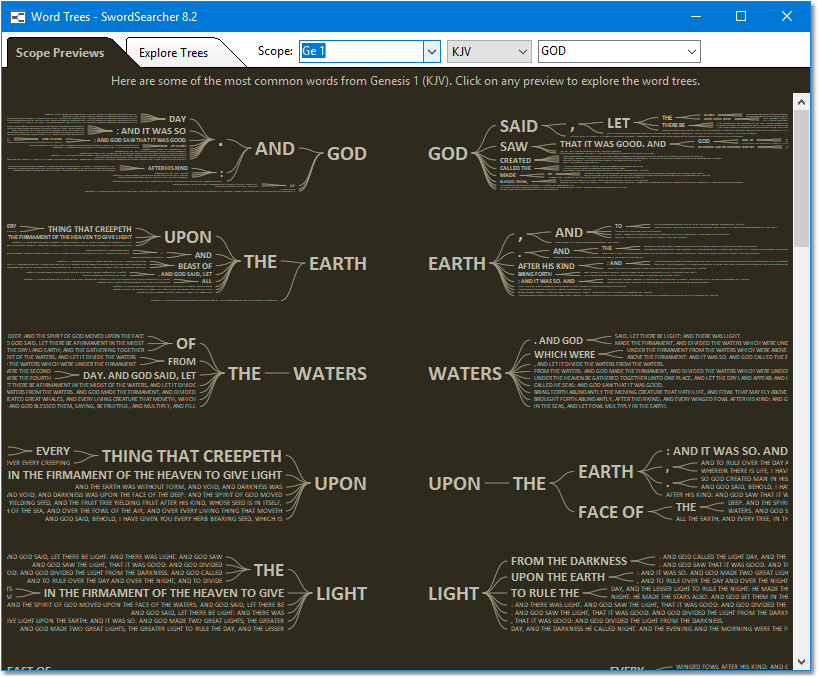 Word Tress showing previews for Genesis 1
Click on any of the trees to explore them. This is what the word tree for "GOD" in Genesis 1 looks like: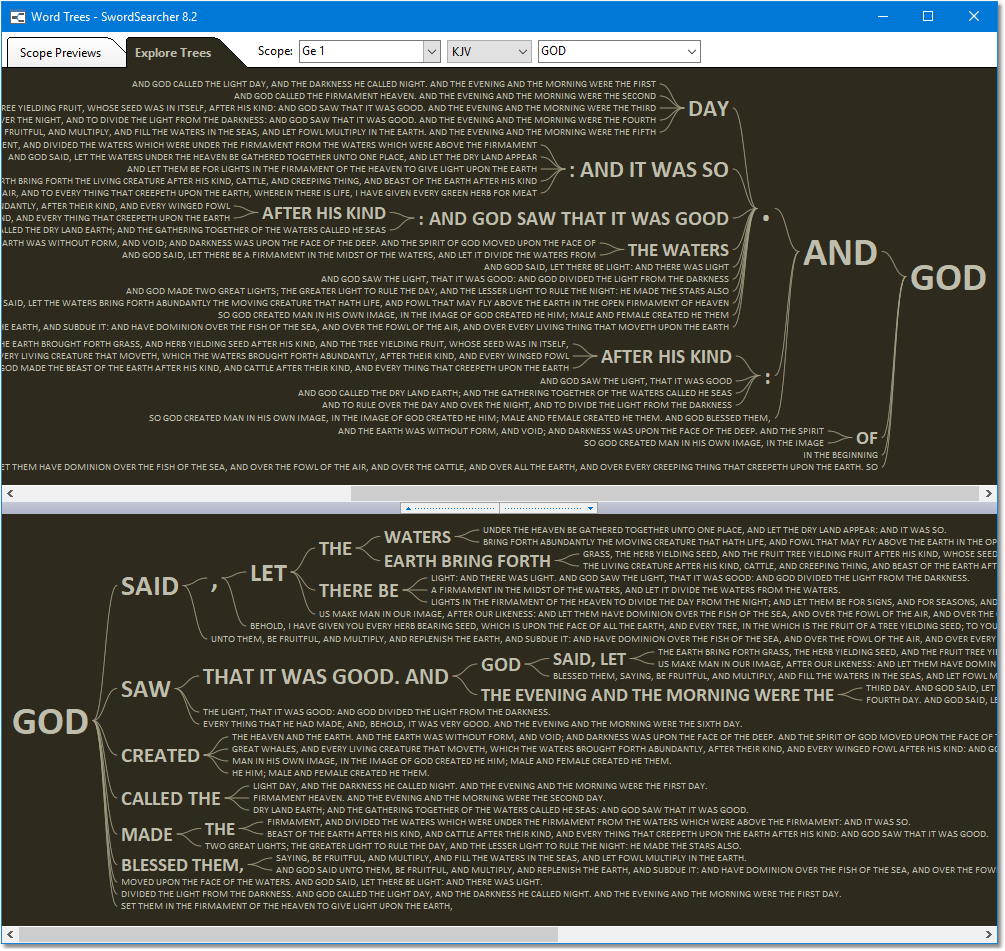 Word trees for the word "GOD" in Genesis 1
What you can see are all of the sentences leading "into" the word, and all of the sentences leading "from" the word. They are grouped by common words, so that it is immediately apparent what words and phrases are most common before and after a word.
Think of word trees as growing sentences from a word. In the example above, the word "GOD" is the trunk and there are several branches and finally leaves.
Word trees are interactive!
Clicking on a branch in a word tree makes it active and zooms in on it, often revealing more detail. For example, clicking on the word "SAW" in the bottom word tree would make it look like this:
Word tree detail
Click on the "trunk" again to return the word tree to how it looked before. As you pass the mouse pointer over the branches of the tree, you can see the verses in pop-ups.
You can control word trees using the toolbar, detailed here:
Word Tree toolbar
When exploring trees, the middle divider can be dragged to give more space to the top or bottom tree view. The buttons on the divider can be used to maximize the top or bottom tree if you only want to see details in one of them.
Word Tree divider
Right-click on a branch for options:
Word Tree context menu (right-click)
Tips
•Word trees are usually easier to explore for smaller scopes -- Chapters or Books work well. However, you can set the scope to the entire Bible or another large group of books and "drill into" the trees to see how they look from "up high."
•Word trees are not case-sensitive. In order to make sure that "the" is considered the same word as "The," the case of letters is ignored. This is the recommended way to use word trees and also the reason why the words are all shown in capital letters. You can override this by right-clicking in the viewer and enabling "Match Case," but this is not recommended. The only reason you might want to do this is if you need to differentiate between "lord" and "LORD" or other such circumstances.
•If a word tree is showing too many matches to be able to read clearly, it just means that you need to "drill into" the tree by selecting an active branch. Click on a smaller word to make it active and "zoom into it."
•The Bible panel has convenient shortcuts in its right-click context menu for opening word trees based on selected text. You can also do this from search results in a verse list or by right clicking a word in the Word Cloud Generator.
Right-click context menu in Bible panel, showing shortcuts for opening Word Trees.
Have fun with word trees. This is a visualization tool designed to give you a different way to view search results. Connections between words and phrases can suddenly become obvious where they can be hard to spot in a conventional list of verses. You won't break it by playing with it, and there's no "right way" to use them. Just try!
To save a word tree to a graphics file (PNG, JPG, or BMP), right-click it and select Save. You can also use the Copy command to place it on the Windows clipboard to be pasted into a Word document or other type of editor.
Some Technical Details:
Word trees include all of the text, including punctuation, in the scope specified. However, for extremely large trees built from large scopes and common word trunks, the trees are recursively "pruned" to exclude branches that do not comprise at least 0.5% of the results. Without doing so, the trees would be far less useful as a visualization tool. When a tree has been "pruned" you will see this note when holding your mouse pointer over text for a preview:
Pop-up showing preview for the word "THE" in the whole Bible.
To make Word Trees easier to use, hyphenation is removed from Bible text inside of the Word Trees.