During the course of study with SwordSearcher, various search results will be displayed. There are three different kinds of search result panels, and with the default layout, they appear as tabs after more than one search results panel has been created.
When you first start SwordSearcher, the search results panel area is either hidden or empty, like this: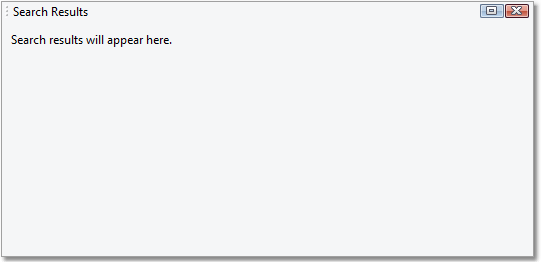 Search results panel area before any searches have been performed
After you perform searches or certain other functions, the results panel may look something like this:
Sample result panels, showing a verse list from a Bible search
When more than one search result panel is available, you will use the tabs at the base of the search results to switch between them. Notice also that the tabs have close buttons. These buttons affect the specific panel they are on, so clicking the close button on the tab above that says "KJV Search: inspiration" would only close that particular result display.
If you have several result panels open, you may find using the tabs menu button an easier way to switch between them, like this:

The View menu on the main menu bar also has several items for navigating search result panels.
If you do not wish a new Verse Lists or Library Search panels to be created for every search, you can select the appropriate re-use panel option in Layout Preferences. With Re-use Verse List Panels selected, only one Verse List panel would be created, and each search would replace the contents on the panel.
See the following help topics for details on the different types of search result panels:
Verse List (Bible Search Results)