SwordSearcher's Main Window is designed with four "study panels:" A Bible panel, a Book & Dictionary panel, a Commentary panel, and a Search Results panel.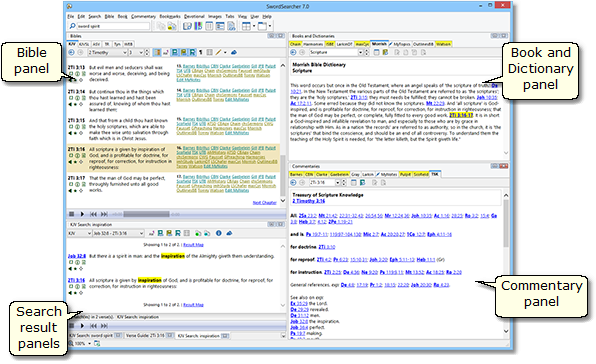 Sample of SwordSearcher Main Window
You can choose between several different pre-set layouts to change the position of the panels, or you can customize the layout to your specific tastes.
The main window also has several toolbars used to access commonly used features of the software.
For details, see:
The Books & Dictionaries Panel
Using Zoom and Color Mode
To learn how to change the layout of the panels, see Panel Layout.
You can create temporary "copies" of the Bible, Book, and Commentary panels, called Clone Panels.