The KJV-TSK is a special Bible panel tab with integrated, in-line cross-references from the TSK (Treasury of Scripture Knowledge). It gives you convenient access to over 800,000 cross-references right in the text of the Bible.
Sample screen showing the KJV-TSK on John 1:1 with cross-references for the phrase "with God."
In the above example, the mouse pointer is being held over the cross-reference link for "with God" in John 1:1. A pop-up shows a preview of the linked verses. Clicking the link opens the complete set of references in a separate verse list panel: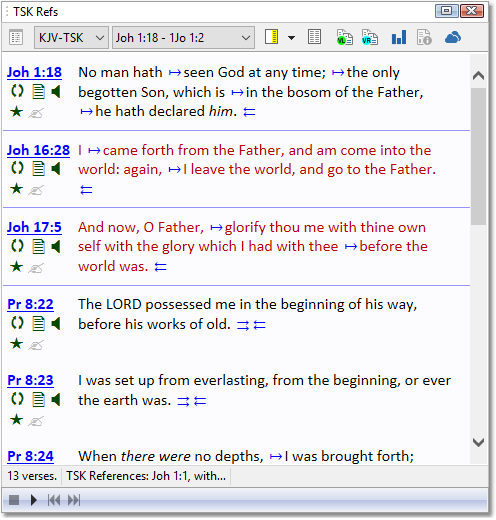 Sample screen showing cross-references for "with God" from John 1:1 in the KJV-TSK.
And from here, additional references could easily be explored.
The cross-reference notation is as follows:
↦ An in-line reference to one or more other verses, attached to the word(s) following.
⇉ General cross-references to other verses.
⇇ Additional verses from which a reference to this verse exists. (These are the exp reference links from the TSK module and can be considered reciprocal cross references.)
The TSK commentary module must be installed for this feature to be available. The TSK commentary also has some additional material available on verses in the form of marginal readings, short commentary notes, and chapter outlines. See the TSK commentary module for more details.
For special preference options related to the KJV-TSK, see Verse List Panel Defaults and Layout Options.
Note: You can do normal searching of the KJV-TSK just as you can with the KJV. However, the advanced Character String and RegEx search results for the KJV-TSK do not display with match highlighting in the Verse List. If you have need of these special search functions, just use the normal KJV module.