Select the File menu and click Preferences. Select the Misc. Options page.
Search Bible Default determines which Bible version is set for searching in the Search Bible Dialog when it is opened. Select Last Searched Bible Version to have the dialog set to search the last Bible version you performed a search on. Select Active Bible Version to have the dialog set to search whichever Bible version is currently active in the Bible panel. This setting has no effect on the Search toolbar, which always uses the active Bible version in the Bible panel.
You can still change the search version in the Search Bible Dialog once it opens. This setting only defines what version it will initially be set to.
Checking for Updates controls how often (and if) SwordSearcher will offer to check for updates.
Pop-up verse text:
When Use context preview in Book and Commentary panels for links with less than five verses is toggled on, pop-up verse text will include a context preview up to a range of five verses. This setting applies to the Book and Commentary panels, as well as the Scan Text for Verse References tool, but is ignored if the verse hyperlink contains multiple verse ranges (set in Text Display Options). Note that the context preview is always shown for verse tag links in Verse List panels.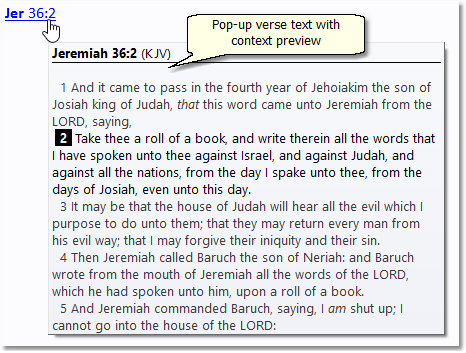 Example of pop-up verse text with context preview.

Example of pop-up verse text without context preview.
Bible module for pop-up verse text controls the Bible text used to display pop-up verse text. The default setting is "Use active module in Bible panel." You may select a module to always use regardless of the active Bible module.
Search Boxes and Toolbar
When Clear History... is toggled on, SwordSearcher will not save history lists between sessions for Bible searches, Full Library searches, etc. Essentially, any of the entry boxes that offer a pull-down history list of previously entered text will be erased when you close SwordSearcher.
Disable Automatically show suggestions menu in Go To Verse and Search toolbar if you do not want the suggestion menu to appear as soon as you start typing in the main toolbar search box.
Advanced Clipboard Settings
When Use system-wide hotkey for auto verse copy+paste is toggled on, the Ctrl+Alt+V hotkey will work outside of SwordSearcher to automatically paste verses into other applications, as long as SwordSearcher is running in the background. See Automatically pasting verses into another application for details.
The option When copying a reference list from a Verse List panel, put the book tag on each new chapter reference is used when using the Copy Verses References option in Verse List panels. For example, if you do a search for "love," the first three results are in Genesis, and by default, the reference list would be copied with each chapter appearing thus: "Ge 27:4; Ge 29:20,32;..." If you disable this option, the first three references would be consolidated like this: "Ge 27:4; 29:20,32;..." It is recommended that this be left on the default (enabled) setting for improved readability.
When Use plain-text clipboard copy with marked text in displays is toggled on, text copied to the clipboard by marking with the mouse will always be in plain format. Use this to prevent formatting styles from being inserted with the text when you paste into a word processing document. This can also solve compatibility issues with some programs that do not properly handle HTML clipboard objects.
Enhancements for Touch Input and Visual Impairment
These options are primarily intended to improve the user interface when using touch input monitors or tablet/slate PCs. They may also be useful to improve the experience for users with vision problems.
Increase line spacing in panel text adds space between lines of text in the Bible, Verse List, Book, and Commentary panels. (This makes tapping verse links with your finger easier).
Increase size of buttons and other controls adds margin inside of buttons and tree view items (Topic and Verse Guides), making the buttons larger without increasing the font size. Changes to this option will require a restart of SwordSearcher to take effect. This option is disabled if your system is set to high DPI (large fonts).
Temporarily use touch-size splitters can also be selected on the main View menu and is used to make it possible to resize panels with finger input, without a mouse or stylus.