Advanced Bible verse search: English Stemming
Often, when you need to find verses in the Bible, you need to look for more than just a single form of the word. For example, you may want to search for "love," but also want to find verses with other forms of the word, such a "loveth" and "loving." You could easily type in each form of the word, but that is not convenient and you may forget one.
SwordSearcher provides a powerful searching function called English Stemming. When you use this, SwordSearcher will reduce words down to their base form (or stem), such as "love" for "loving" when doing comparisons for matches. This way, the software sees "love, loveth, loved, loving," etc., as all the same word and will include them in the search.
How to search for all word forms in SwordSearcher with stemming
Open the Bible Search dialog (press F2 or select it from the Search menu or toolbar). There are two ways to use stemming. If you want to include stem matching on all of the words you search for, you can check the Find all word forms (English Stemming) box: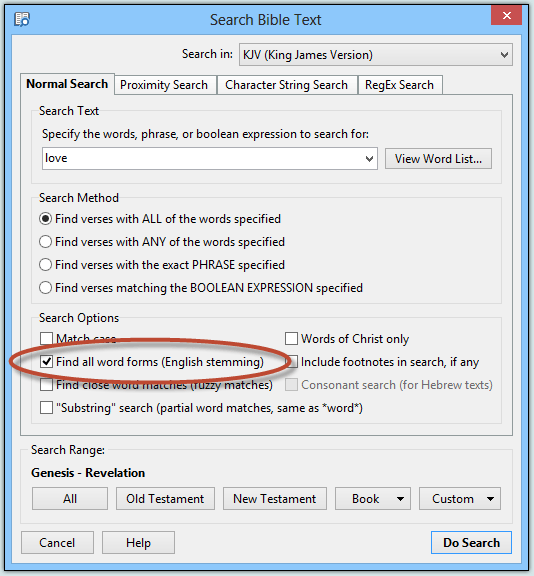 In this example, we are searching for all forms of the word "love," and here are some sample results:
Eph 5:2 And walk in love, as Christ also hath loved us, and hath given himself for us an offering and a sacrifice to God for a sweetsmelling savour.
Php 4:8 Finally, brethren, whatsoever things are true, whatsoever things are honest, whatsoever things are just, whatsoever things are pure, whatsoever things are lovely, whatsoever things are of good report; if there be any virtue, and if there be any praise, think on these things.
Heb 12:6 For whom the Lord loveth he chasteneth, and scourgeth every son whom he receiveth.
A more advanced method of searching for word forms is to use the stemming token on a specific word. This way, you can combine a search for a single word and the forms of a different word. This is done by typing the stemming "token" next to the word, which is the = sign. For example:
The = character in "love=" tells SwordSearcher to apply all word forms when searching for love. Using this token instead of the check box (as in the first example) allows you more precision in your search, because you will not always want all word forms of each word in your search. Here are some sample results from the above search:
Joh 21:15 So when they had dined, Jesus saith to Simon Peter, Simon, son of Jonas, lovest thou me more than these? He saith unto him, Yea, Lord; thou knowest that I love thee. He saith unto him, Feed my lambs.
Joh 21:20 Then Peter, turning about, seeth the disciple whom Jesus loved following; which also leaned on his breast at supper, and said, Lord, which is he that betrayeth thee?
Ro 15:30 Now I beseech you, brethren, for the Lord Jesus Christ's sake, and for the love of the Spirit, that ye strive together with me in your prayers to God for me;
Combining stem search with other search methods
Using the stemming token (=) even works inside of phrases, allowing you to find phrases while accounting for multiple word forms. For example, searching for "love= not" (with the quotes, to specify a phrase), would return verses like these:
Pr 15:12 A scorner loveth not one that reproveth him: neither will he go unto the wise.
Pr 20:13 Love not sleep, lest thou come to poverty; open thine eyes, and thou shalt be satisfied with bread.
You can further enhance your searches by combining the stemming token (=) with SwordSearcher's other advance searching functions, such as Boolean operations and fuzzy matching.
SwordSearcher also allows English stem searching through commentaries and books (using the Full Library Search on the Search menu), in case you find the need to use this form of search in your reference material.
Read more about Bible Searching in SwordSearcher.