SwordSearcher Version 7.2 Released
SwordSearcher 7.2 now available!
For all upgrade details, see the Upgrade FAQ and the Revision History.
What's New in SwordSearcher 7.2
April 1, 2015
Library Additions:
Here are some highlights of new features and improvements:
Significant speed improvements throughout. A lot of code has been rewritten to leverage the power of today's multi-core CPUs to make SwordSearcher even faster than it already was. The main search bar suggestion list populates much more quickly, phrase searching is speedier, text panels load faster, and everything is "just snappier."
New expanded chapter view in the Commentary panel lets you view an entire chapter of commentary at one time. Actually, the commentary panel can combine and show any range of verses from a chapter that you want, and you can switch between the commentary tabs maintaining this view as desired. And of course, the commentary tabs light up to show you when there is corresponding content.
MP3 audio Bible integration has been expanded to support additional sources for verse-by-verse synchronized playback.
Additional copy/export formatting options to format verses just the way you want them on the clipboard. Also, verse tags have been improved to use "Psalm" instead of "Psalms" unless it is a reference to the entire book, and the unnecessary chapter number (1) is omitted from single-chapter books.
There's a lot more listed in the detailed revision history.
What's New in SwordSearcher 7.1
Q2 2014
Library Additions:
New feature highlights:
A highly flexible and intelligent Bible Reading Schedule System. SwordSearcher can help you stay in the Scriptures daily with standard and custom reading plans. The reading schedule functions of SwordSearcher prominently feature estimated reading times and use them for calculating plans. This is far more useful than dividing readings only by verses or chapters. Custom reading plans can include any segments of Scripture needed. Plans can be created based on calendar period desired, or based on how much time you want to spend reading each day.
The new Passage Analysis Tool shows details about a selected portion or portions of the Bible. Among the interesting details provided are complete word lists and "most unique" word lists, so you can see which words appear more predominantly in any given area of the Bible compared to other areas.
Even faster and more convenient access to library modules with new library tab drop-down selection menus.
Several user module editor enhancements, including built-in support for pasting images directly into user notes and topics.
What's New in SwordSearcher 7.0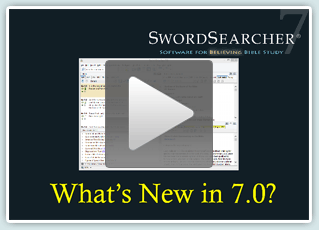 Video: What's New in SwordSearcher 7.0?
Q1 2013
Library Additions:
New feature highlights:
New, more powerful Go to Verse and Search Toolbar is more versatile, providing automatic search suggestions as you type, fast access to verse-based tools and topic lookup, and more. Be sure to watch the video to see how helpful this is.
The new Bible Word Clouds Generator is one of the most interesting discovery tools you'll ever use.
New Module Set System lets you create groups of library items that you care about, which can be used to filter library searches, or switch between different collections of visible library tabs or Bible margin links.
Improvements to the Verse Guide Panel and the Topic Guide make these tools even faster to use than before.
Bible book abbreviations can be customized.
A new cohesive "look" with simpler, more elegant icons, while retaining the same usability and flow that made SwordSearcher what it is.
...and much more!
Current users click here for upgrade info.
Not yet a SwordSearcher user? Order here.
See what's new from previous releases here.