Integrated Audio Bible Support
"...faith cometh by hearing, and hearing by the word of God." —Romans 10:17
SwordSearcher supports integration of an audio Bible. With Bible audio support, you can play narrations of the Bible with familiar audio controls right in the Bible panel.
SwordSearcher does not itself include an audio Bible, but instead, supports "linking" MP3 Bible file sets available from various sources. To enable Bible audio in SwordSearcher, you simply integrate them in SwordSearcher with the easy-to-use Configure Bible Audio window.
Recommended Audio Bible for use with SwordSearcher
For the best experience, we highly recommend The Scourby Audio Bible: King James Version from Hendrickson Publishers. Once you copy the files from the Hendrickson DVD to your hard drive, you can add them to SwordSearcher by selecting Configure Bible Audio on the File menu. Using this audio Bible allows you to play individual verses from the Bible, as well as play complete chapters.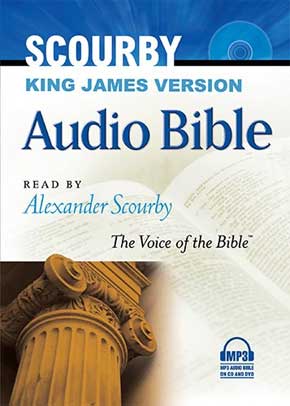 Scourby Audio Bible: King James Version.
Read by Alexander Scourby™.
MP3 files on DVD-ROM.
Published by Hendrickson Publishers.*
ISBN-10: 1598563599
ISBN-13: 978-1598563597
Available from Amazon.com and other retailers. (Be sure to use the ISBN identification numbers above to get the correct MP3 Bible. See the publisher's website for alternative retailers.)
*Support for this audio Bible was added in SwordSearcher version 7.2.
SwordSearcher supports other audio Bible sets as well, but for automatic verse highlighting during playback and playback of verse lists from search results, the Hendrickson MP3 Bible above is recommended.
SwordSearcher supports automatic scrolling in the Bible panel for any audio Bible.
See the Bible audio support section of the help file for more details.
StudyLamp Software LLC is not affiliated with Hendrickson Publishers or Litchfield Associates. "Alexander Scourby" is a trademark of Litchfield Associates Ltd.