SwordSearcher supports integration of an audio Bible. With audio Bible support, you can play narrations of the Bible with familiar audio controls in the Bible panel, with synchronized scrolling and verse highlighting.
SwordSearcher does not include an audio Bible, but instead, supports "linking" MP3 Bible file sets available from various publishers. To enable audio Bible playback in SwordSearcher, you must obtain the audio files and link them in SwordSearcher with the easy-to-use Configure Audio Bibles window.
You can link as many audio Bibles as you like and switch between them at will.
StudyLamp Software LLC does not publish an audio Bible. Audio files are not included with SwordSearcher. SwordSearcher supports the integrated playback of audio files on the user's computer only.
The following table lists the supported audio Bibles as of this writing (Q1 2019). If the publisher makes changes to the MP3 files, full support for the audio Bible may not be possible without an update. Please visit the Audio Bible page on the SwordSearcher Website for up-to-date information.
StudyLamp Software LLC is not affiliated with the publishers of these audio Bibles. "Alexander Scourby" is a trademark of Litchfield Associates Ltd.
Recommended audio Bible for use with SwordSearcher
Scourby Audio Bible: King James Version.
Read by Alexander Scourby™.

MP3 files on DVD-ROM.

Published by Hendrickson Publishers.

ISBN-10: 1598563599

ISBN-13: 978-1598563597
What will I need to do?
Once you obtain an MP3 set, you need to copy all of the files from the MP3 DVD to your computer or extract the downloaded zip file. Using Windows File Explorer, create a folder on your hard drive and give it a name like "Audio Bible MP3s" and copy all of the contents from the DVD-ROM or the extracted zip files to this folder. Follow the instructions listed below for setting up audio in SwordSearcher.
If you are purchasing an downloadable MP3 Bible online, make sure you get MP3 files. SwordSearcher cannot integrate non-MP3 files, "Apple optimized" files, or "apps" for playback. Only complete (Old and New Testament) Audio Bibles in MP3 format can be linked into SwordSearcher.
Setting up Bible audio support
If you have not already done so, copy all of the files for your audio Bible into a folder on your hard drive. It's okay if this folder contains sub-folders (such as a folder for the Old Testament and one for the New Testament, or one folder per disc, etc). If you have purchased and downloaded an audio Bible from the Internet, the files should already be on your hard drive, and you just need to locate them. (Please consult the installation instructions that came with your audio Bible purchase if you do not already have the files installed. It may be necessary to "un-zip" the files to a common folder.)
In SwordSearcher, on the File menu, select Configure Audio Bibles.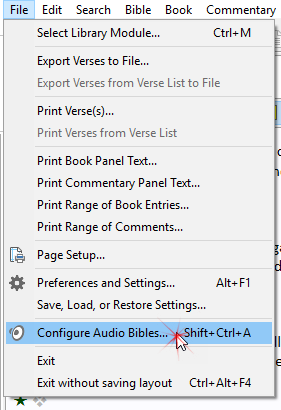 In the window that appears, click Link an Audio Bible, and select the folder containing the MP3 files. Again, it is okay if the files are broken up into sub-folders. Select the folder containing all of the files or sub-folders. For example, I have copied the Hendrickson MP3 DVD to my hard drive into a folder called "Hendrickson Scourby DVD" and choose that folder:
Sample showing how to link audio files.
Click OK and SwordSearcher will scan the files to integrate them into the Bible panel.
If you are using one of the audio Bibles in the table above, SwordSearcher will provide verse-level synchronization and playback.
If you enjoy listening to a variety of narrators, you can link as many of the supported audio Bibles as you wish, and choose among them by clicking the green circle next to the one you want to make active:
Sample showing multiple audio Bibles linked into SwordSearcher.
If you wish to remove an audio Bible from SwordSearcher, just click the red X. It will not delete the audio Bible files.
Audio Playback Options
The Configure Audio Bibles dialog offers several options on the Playback Options page: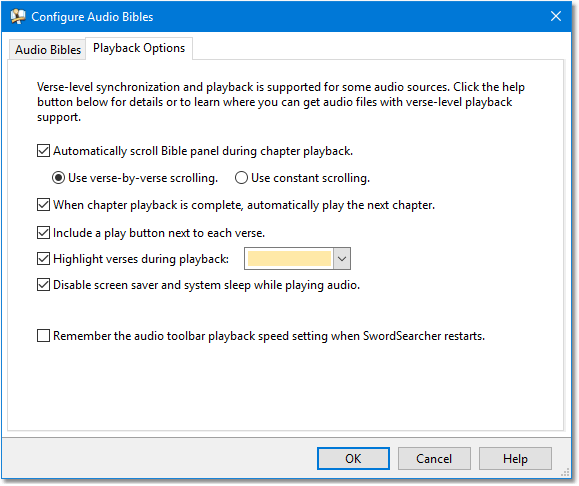 Sample Configure Audio Bibles: Playback Options screen.
Automatically scroll Bible panel during chapter playback: Causes the Bible text to scroll as audio is played. If you are using a supported audio Bible listed above, this scrolling is exactly accurate to the current verse being narrated. If you are using an unsupported audio Bible, the scroll position is estimated but usually quite accurate.
Scroll method: Use verse-by-verse scrolling scrolls to each verse as it is narrated, keeping it centered in the panel. Use consistent scrolling slowly scrolls the text throughout the playback and may be more pleasing for some users.
When chapter playback is complete, automatically play next chapter: if this option is selected, playback will be continuous through the whole Bible until you stop playback. When the end of the chapter is reached, the next chapter will be loaded and played automatically.
Include a play button next to each verse: If you are using supported audio Bible, you can have a "play" button (which looks like a speaker cone) next to each verse to begin playback at that verse. See Verse Widgets.
Highlight verses during playback: The currently narrated verse will be highlighted, and the highlight will follow along with the playback. Only for supported audio Bibles.
Disable screen saver and system sleep while playing audio: It is recommended to leave this checked. If you disable this option, Windows may enter power saving modes and stop playback during extended periods of Bible audio playback if you do not interact with your computer.
Remember the audio toolbar playback speed setting when SwordSearcher restarts. If you check this option, changes you make to playback speed will be remembered when you close and restart SwordSearcher. Otherwise, the toolbars will always begin with a x1.0 (normal) playback speed when SwordSearcher starts.
Using Bible audio
Once you have set up Bible audio support, the Bible panel will add a media control bar at the bottom: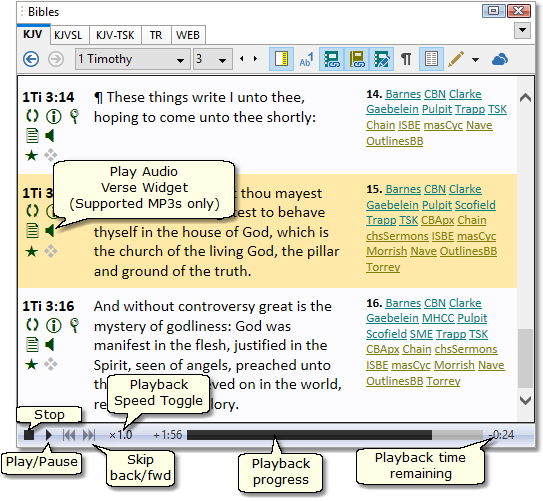 Sample Bible panel showing media control bar
The Play Audio Verse Widget (see Verse Widgets) only appears if you are using a supported Audio Bible. Clicking this verse widget starts playback at the specific verse and continues through the chapter. Shift+Clicking the widget plays back that verse only. Clicking the verse widget of an actively-playing verse stops playback.
The media control bar (bottom of panel) works like a typical audio player. If you are using a supported Audio Bible, the skip buttons will move back/forward one verse. For unsupported Bible audio file sets, the skip buttons will move approximately by verse. Clicking on the playback progress bar will jump to that location in the audio.
The Playback Speed Toggle button controls the speed of the audio playback, so you can slow down or speed up the audio. Normal is x1.0 (100% speed). Click this button multiple times to toggle between the available speed values.
You can use the keyboard Pause button or Ctrl+Space to toggle playback as well. (The Pause button is usually located above the Insert key but may not be included on compact keyboards.)
It does not matter which Bible version you are reading, or from which version your audio is narrated. The Bible panel will always show the media controls, and they will always operate, regardless of the active Bible version or the version used in the audio. They also work when the Bible panel is in compare mode and in paragraph mode.
While audio is playing, all other features of SwordSearcher are fully functional. You can perform searches, view and edit commentaries and books, etc. Playback is also available in cloned Bible panels. Tip: Open a clone Bible panel on the chapter you want to study. Begin playback in the clone panel. When you want to stop for a moment to search out a topic, pause playback and perform your searches or read your cross-references. When you're ready to continue listening, resume playback from the cloned Bible panel or by pressing Ctrl+Space.
The Bible panel right-click pop-up menu also includes playback commands. If you are using a supported Audio Bible, these additional commands appear as follows:
Sample audio playback menu items from the Bible panel (with verse-level support)
If you are using an unsupported file set (which does not support individual verse playback), the additional menu commands appear as follows:

Sample audio playback menu items from the Bible panel (without verse-level support)
The main difference in menu options is that for audio file sets without individual-verse playback support, SwordSearcher can estimate the position of a verse in the chapter audio to begin playback at that verse. Usually, estimated playback will begin a little bit before the selected verse. For the best results, use only supported audio Bible files, listed at the top of this help topic.
If you are using a supported Audio Bible, Verse List panels also include playback controls. You can play aloud complete verse lists just as you can play back a chapter of the Bible.