Great Preaching of the Faith - 450+ Sermons by Topic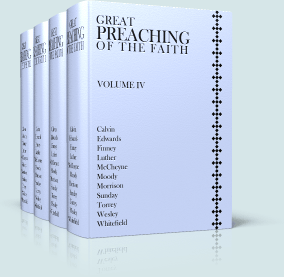 Great Preaching of the Faith is a treasury of over 450 sermons, organized by author and by topic or theme.
Includes sermons preached by:
Calvin, John (1509-1564)
Edwards, Jonathan (1703-1758)
Finney, Charles G. (1792-1875)
Luther, Martin (1483-1546)
McCheyne, Robert M. (1813-1842)
Moody, Dwight L. (1837-1899)
Morrison, George H. (1866-1928)
Sunday, Billy (1862-1935)
Torrey, Ruben A. (1856-1928)
Wesley, John (1703-1791)
Whitefield, George (1714-1770)
The sermons are indexed by subject to make it easy to find preaching based on a topic or theme. There are over 400 subjects, from Abilities to Zeal.
Thanks to SwordSearcher's deep referencing, sermons are also indexed by Bible reference, making this treasury of preaching accessible by Bible verse as well.
This text is part of the SwordSearcher Deluxe Study Library.
Module type: Book
Module abbreviation: GPreaching
---
"I have used your software for years, and it has been very helpful in my ministry. Thanks for a great product."
Herman Hass
---
The Deluxe library includes hundreds of volumes. Discover how fast, convenient, and powerful software is compared to mere online study tools.
See also: