Gospel Harmonies and Bible Chronologies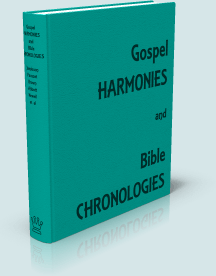 The SwordSearcher Harmonies and Chronologies book contains complete tables of parallel Bible passages in the Gospels (known as a Gospel Harmony), as well as other helpful reference tables.
Gospel Harmonies
Chronological Tables of the Parables of Jesus
Chronological Tables of the Miracles of Jesus
Dates of the Books of the New Testament
The Parables Recorded in the Old Testament
The Miracles Recorded in the Old Testament
The Miracles Recorded in the Acts of the Apostles
Discourses of Jesus in Chronological order.
Our Lord's Miracles (non-chronological)
Our Lord's Parables (non-chronological)
Discourses in Acts
The Spiritual Order of Paul's Epistles
Chronological Table of the Events of the Life of Paul
The Harmonies study library module is not just a "list of lists." Thanks to SwordSearcher's "deep referencing," each verse in the Bible is linked to each table in which it appears in Harmonies. This gives you quick, one-click access to parallel and chronological information without having to hunt through dictionaries or appendixes.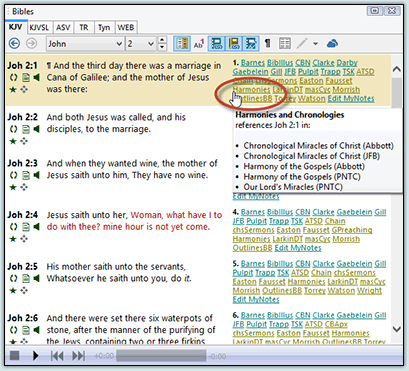 Example of Harmonies link in Bible panel (click to enlarge).
This text is part of the SwordSearcher Deluxe Study Library.
Module type: Book
Module abbreviation: Harmonies
---
"This is still the best program I have ever had. I love it."
Steve Gifford
---
The Deluxe library includes hundreds of volumes. Discover how fast, convenient, and powerful software is compared to mere online study tools.