Matthew Poole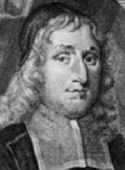 Matthew Poole
1624-1679
Matthew Poole was Born at York, England, in 1624, and educated at Emmanuel College, in Cambridge. He became minister of St. Michael-le-Quernes, London, in 1648, and devoted himself to the Presbyterian cause. However, he was ejected from his charge because he was considered a nonconformist, after publishing a treatise on the value of preaching by non-ordained individuals.
He then devoted himself to Biblical studies. The first fruit of his study was produced in 1669, in the Synopsis Criticorum (5 volumes), a monument of Biblical learning which has served many generations of students.
Matthew Poole died while writing his commentary, English Annotations on the Holy Bible, and his friends completed the work, which was published in 1685 and is still published to this day in three volumes and available in SwordSearcher Bible Software.
Poole also took part in the Romish controversy, and published two very effective works: The Nullity of the Romish Faith, or, A Blow at the Root, etc. (London, 1666), and Dialogues between a Popish Priest and an English Protestant (1667). Because of this he was greatly hated by Papists, and his name was on the list of those condemned to death in the Popish Plot. He retired to Amsterdam, and died in October, 1679.
C. H. Spurgeon said of Poole's commentary: "If I must have only one commentary, and had read Matthew Henry as I have, I do not know but what I should choose Poole. He is a very prudent and judicious commentator... not so pithy and witty by far as Matthew Henry, but he is perhaps more accurate, less a commentator, and more an expositor."
Considered one of the great Puritans, few names will stand so high as Poole's in the Biblical scholarship of Great Britain.
Portions of this biographical text have been adapted from The New Schaff-Herzog Encyclopedia of Religious Knowledge.