This text is part of the SwordSearcher Deluxe Study Library.
Module type: Book
Module abbreviation: imhStudy
"The whole system is very user friendly and makes study very pleasant and quick. I have been using and recommending SwordSearcher for many years."
—John Heiermann

The Deluxe library includes hundreds of volumes. Discover how fast, convenient, and powerful software is compared to mere online study tools.
See also: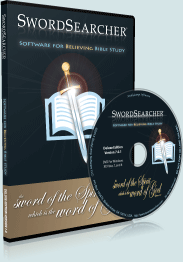 How to Study the Bible: The Second Coming and Other Expositions by Isaac Massey Haldeman was originally published with the title Friday Night Papers.
How to Study the Bible is a collection of studies, lessons, lectures, and addresses on many topics from the long ministry of I. M. Haldeman, pastor of First Baptist Church of New York City.
This is the ninth edition of the book, much larger than the original edition published as "Friday Night Papers." The reader will find strong, logical teaching on topics such as the Church, the Advents of the Lord, the Holy Spirit, types and anti-types, the Sabbath, and expositions of several key passages of Scripture.
Haldeman's address on the Holy Spirit (Chapter 3) and lesson on the Story of Joseph (Chapter 16) are especially excellent blessings for the Bible believing Christian.
As with all books in the SwordSearcher library, How to Study the Bible can be read chapter-by-chapter, or can be searched instantly for words or phrases, and is indexed by verse reference.
Chapters of this book:
How to Study the Bible
An Address on the Second Coming
An Address on the Holy Spirit
The Two Natures
The So-Called Lord's Prayer
Spiritual Growth
A Friend in Need
Unhesitating Confidence
A New Name
The Indwelling Presence
Abiding in Christ
Consecration of Ability
The Sabbath
Genesis: Fourth and Fifth
The Story of Eliezer and the Bride
The Story of Joseph
The Unrent Veil
The Rent Veil
A Golden Bell and a Pomegranate
The Story of Two Birds
The Present or Holy Ghost Age
The Times of the Restitution of All Things
The Book of Jeremiah
The Church
Some Studies in the Book of Ruth
John XI and John XII
The "Imminent" Coming of Christ
The Syrophenician Woman
The Leaven
Seven Things About Lot
Four Judgments
The Two-Fold Coming
A Bible Reading on Christians
Oneness of Christ and His People
Man's Ruin, God's Remedy
Law and Gospel
The Rod and the Rock
The Rod that Budded
Outlines of Prophesy
Of Whom I am Chief
Earthly Things
Moses
Paul
The Delicate Seal and the Day of Redemption
Meet for the Master's Use