This text is part of the SwordSearcher Deluxe Study Library.
Module type: Book
Module abbreviation: Morrish
"I have used your software for years, and it has been very helpful in my ministry. Thanks for a great product."
—Herman Hass

The Deluxe library includes hundreds of volumes. Discover how fast, convenient, and powerful software is compared to mere online study tools.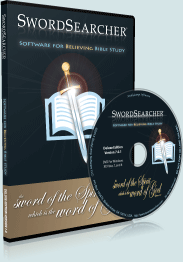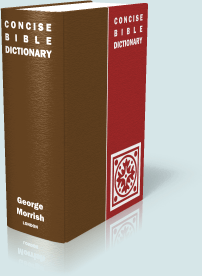 Originally published with the title A New and Concise Bible Dictionary by George Morrish (London), the Morrish Bible Dictionary is more than a dictionary of Bible words.
George Morrish (1814-1911) was contemporary with John N. Darby, and his Dictionary is a compilation of articles and doctrinal positions from those known as Brethren at that time.
Some features of the Morrish Bible Dictionary:
Definitions and explanations of almost 5,000 Bible terms, words, doctrines, places, and people.
A list of New Testament Synonyms and how they are used by the writers of the New Testament.
Introductions and overviews of each book of the Bible.
Thousands of Scripture references.
And with SwordSearcher's deep referencing technology, you can immediately see every entry in the Dictionary that references a particular verse or Bible passage, making it useful also as a Bible commentary.
The Preface states:
"The principal object in bringing out this Bible Dictionary is to give in a concise form information on subjects not usually found in such works, namely... The Doctrines of Christianity as set forth in scripture; t he Dispensational Dealings of God as revealed in His word: the distinction between the various dispensations being often misunderstood and ignored; Prophecy: many parts of scripture being unintelligible unless the ways of God as portrayed in Prophecy are understood..."
Here is a sample from the Morrish Bible Dictionary, from the entry on Romans:
This may justly be called the fundamental epistle of Christian doctrine. Its value and importance are seen in that its doctrine lays in the soul a moral foundation by the presentation of God in qualities or attributes which the state of things existing in the world appears to call in question. Thus God is justified in the eyes of the believer, and this being the case, the purposes of His love are made known to him.

In looking at all that is around us in the world, everything appears to be out of order: the presence and domination of sin, a broken law, and the corrupt and violent will in man, all call in question the righteousness of God; while the scattering of God's people Israel raises the question of His faithfulness to His promises.

Now in Christ all this finds its full and complete answer. The Son of God, by whom all were created, has Himself come in the likeness of sinful flesh, and, by offering Himself a sacrifice for sin, has completely vindicated God's righteousness, while revealing His love. At the same time the man, or order of man, that has sinned against God has been judicially removed by His death from before the eye of God, so that God can present Himself to man in grace.

The moral perfection of the offerer of necessity brought in resurrection, in which all the pleasure of God's grace in regard to man is set forth in righteousness; and Christ risen is the deliverer who is to come forth from Zion to turn away ungodliness from Jacob. Thus God's faithfulness to His covenant is established in Zion. God is proved to be faithful and righteous: we have here the first elements of the knowledge of God.