This text is part of the SwordSearcher Deluxe Study Library.
Module type: Book
Module abbreviation: Dividing
"I use SwordSearcher to look up and study scriptures for my messages. I can easily gain access to loads of information on any particular verse."
—Pastor Steve R. Smith, Russellville Baptist Church

The Deluxe library includes hundreds of volumes. Discover how fast, convenient, and powerful software is compared to mere online study tools.
See also: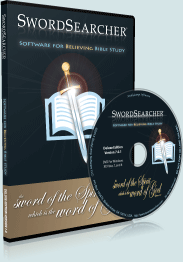 Rightly Dividing the Word, by Clarence Larkin, is a concise overview of the fundamental doctrines of the Bible according to a premillennial, dispensational perspective.
Larkin began his work on Rightly Dividing after completing Dispensational Truth, in an attempt to make an introductory book on the subject.
The Author started to prepare an "A B C" book to introduce his larger Work on "DISPENSATIONAL TRUTH," but after writing and condensing several times he felt led to abandon that idea and to prepare a book on "Rightly Dividing the Word," in which the "Fundamental Doctrines" should be "Rightly Divided" in a series of contrasts. The "Fundamental Doctrines" of the Christian Faith are clearly outlined in numerous books on Theology, but they are not available to the average reader and were mainly written for students. The Author has made it the work of his ministry to preach the "Fundamental Doctrines." To this end he has aimed to express them in the simplest and clearest manner possible. This book contains the cream and meat of his sermons for over thirty-five years, condensed and arranged in a form that will grip and interest the reader, because of the manner of their presentation. The Charts are clear and simple and add much to the value of the book, and will be suggestive to Preachers and Bible Teachers in presenting the "Fundamentals."

-From the Foreword.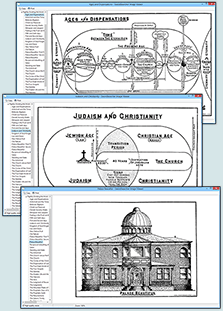 Larkin is famous for his painstakingly designed charts and illustrations which accompanied his Bible commentary and teaching. SwordSearcher includes all 55 of the illustrations from Rightly Dividing the Word.
Rightly Dividing is easy to read and is divided into the following chapters:
Rightly Dividing the Word
Ages and Dispensations
Jew and Gentile
Church and Kingdom
The Four Gospels
The Two Advents
The Spirit World
Satan
The Satanic Trinity
The Mystery of Godliness and the Mystery of Iniquity
Resurrection of Jesus
The Resurrections
The Judgments
The Two Adams
Atonement and Redemption
Sin and Salvation
Law and Grace
Faith and Works
The Two Natures
Standing and State
Regeneration and Baptism
Election and Free Will
The Reciprocal Indwelling of Christ and the Believer
The Threefold Work of Christ
Christ Our Passover
Heaven and Hell
Judaism and Christianity
The Circles of the Christian Life
Palace Beautiful