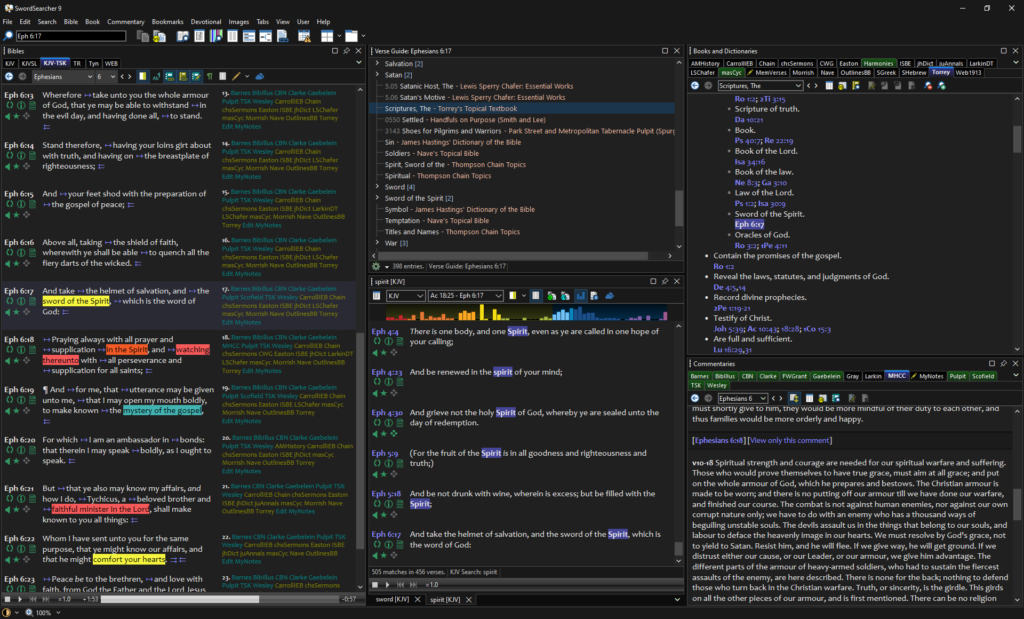 After a considerable development period, SwordSearcher 9 is finally available!
There are a couple of new library modules, as usual, but the real improvements are to the program itself. Version 9 adds a dark/light color mode toggle that lets you quickly adjust the color mode of SwordSearcher's interface for when you're working late and night in a dim environment or just trying to reduce eye strain. Check out the comparison of color modes here. What's great about the color mode toggle is that it remembers your text and background color choices for each mode, independently. This means you can set up your favorite colors for each mode and not have to worry about losing them when you switch!
In addition to that, some serious work has been put into improving SwordSearcher's layout and windowing systems.
Moving your study panels around in the main window is easier now because panel sizes automatically adjust to expected sizes when you move them, and all of the panels will proportionally size, automatically, when the main window is maximized or restored or otherwise resized. Setting up a custom layout should be faster and easier now.
Also, tool windows like the Topic Guide and English-Strong's-Indexer now appear to the system as "top-level windows," which means they can all be maximized, minimized, and most importantly, they now participate in Windows Alt+Tab task switching and Windows Snap functionality.
Clone panels have had an upgrade, too. You can now create clone panels that can be maximized, minimized, snapped, and Alt-Tabbed. (If you prefer the prior functionality of dockable clone panels, you can have that, too!)
We've also been using Microsoft's preview builds for Windows 11. Not surprisingly, to really shine on a new version of Windows, we had to accommodate some new and changed features of Windows 11. That work has been done, and SwordSearcher 9 runs and looks great on Windows 11, which is expected to be released to general availability later this year.
There's a bunch more stuff, including hundreds of little improvements and tweaks too numerous to mention. Rest assured though, SwordSearcher 9 is still SwordSearcher and you will feel right at home when you upgrade.
Speaking of upgrades, if you're already a SwordSearcher user with a valid license, you can get a huge discount on the new version right here.
More information: